WALK 11,000 steps for 11,000 people living with dementia in Simcoe County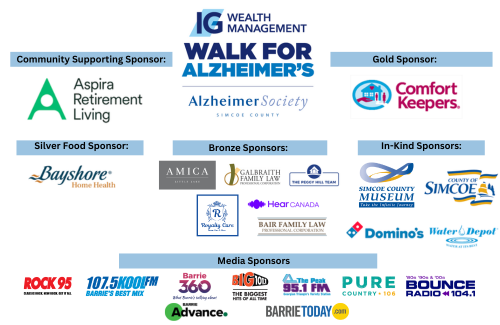 Join us for our 25th Annual IG Wealth Management Walk for Alzheimer's!
Once again, we are asking people to walk throughout the month of May, and we are excited to announce that we will be hosting an in-person celebration at the end of the month.
On Sunday, May 28th we will come together at Simcoe County Museum where we can walk together in support of the over 11,000 individuals living with Alzheimer's Disease or another dementia, and their family, friends, and care partners.
DATE: Sunday May 28, 2023
LOCATION: Simcoe County Museum, 1151 ON-26, Minesing, ON L9X 0Z7, museum.simcoe.ca
TIME: 9am to 1pm
OPENING CEREMONIES: 9:30am, followed by our walk (however the walk route will be open all day!)
It will be a fun-filled, family friendly event featuring local vendors, entertainment, food and more! Looking for something a little slower paced for the day? Come visit us inside the Simcoe County Museum to view fascinating indoor displays filled with the rich history of Simcoe County! This route is fully wheelchair and walker accessible, and open to all participants. Join us on "A Walk Down Memory Lane"!
Please contact Tanya Saari at simcoecounty@alzheimersociety.ca for more information.
Donate:
Sponsor a Participant or Team:
Participate:
Honour Roll: Participants