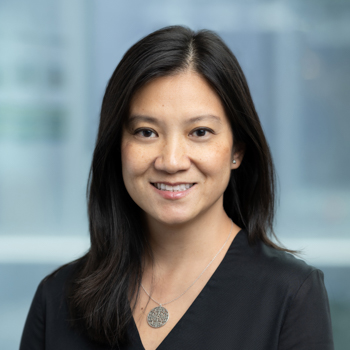 Itti Ma - Vancouver Honouree
2023 IG Wealth Management Walk for Alzheimer's
About 15 years ago, when Itti Ma first learned that her mother, then in her mid-70s, was diagnosed with vascular dementia, she didn't understand it. Her mother seemed to forget about things and needed to follow a particular routine. "Just symptoms of being elderly," Itti thought.
Since Itti was young, her mother had always cared for her and the family. When dementia reversed the roles, Itti felt sadness and pressure and questioned their future. Noticing behavioural changes and learning about her mother's diagnosis was an unsettling process. When Itti took her mother out for dinner, it could only be to certain restaurants, or else she would not enjoy the meal at all. Her mother would want to go home immediately, avoiding any social time. It was worrisome that her mother lived alone and Itti was afraid that she would feel lonely or have a fall at home.
In June 2020, Itti's mother went to the hospital for a medical issue for one month. After the hospital staff spoke with them, they suggested that Itti's mother transition to a long-term care home as they felt it would not be safe for her to return home and live alone. Itti was scared to have her mother move into a care home as it was still early in the COVID-19 pandemic. The transition was challenging for her and she grieved the life they'd known.
Itti had already been connected to the Alzheimer Society of B.C. through a social worker. She was able to join one of the Society's support groups for caregivers of people living with dementia in long-term care, and this group has since become an enormous help to her. Itti not only receives support in the group but she also provides support to other group members. Her kind quiet words of encouragement are appreciated by the other caregivers.
"It is extremely helpful to talk to other people in the same situation," Itti says. "Among my friends, not many have had their parents go into long-term care, so I don't have a sounding board with them."
Many caregivers can start to feel overwhelmed trying to take care of their own needs on top of the person they're caring for. This was Itti's experience.
"As a caregiver, you do not realize how much you have changed your life to adapt to the needs of the person living with dementia," she says.
In addition to support from the Society, Itti has the help of her husband and daughter, alongside a family friend. There to provide emotional support for both Itti and her mother— sometimes simply by having quality family time — they help Itti get her mind off the stress and some of the challenges she faces. She now knows she is not alone.
"Inform yourself," Itti says. "Dementia is different for each person affected by the disease, so it's good to get educated about what the symptoms could be and how the future could look. The best way to support people affected by dementia is to offer your time. Be patient and listen to them."
Join Itti on Sunday, May 28 for the Vancouver IG Wealth Management Walk for Alzheimer's. Together, we make memories matter.